Notes from Areaal I: Rural Ritual Reality
HOSTED BY SEASONAL NEIGHBOURS AT Z33 HASSELT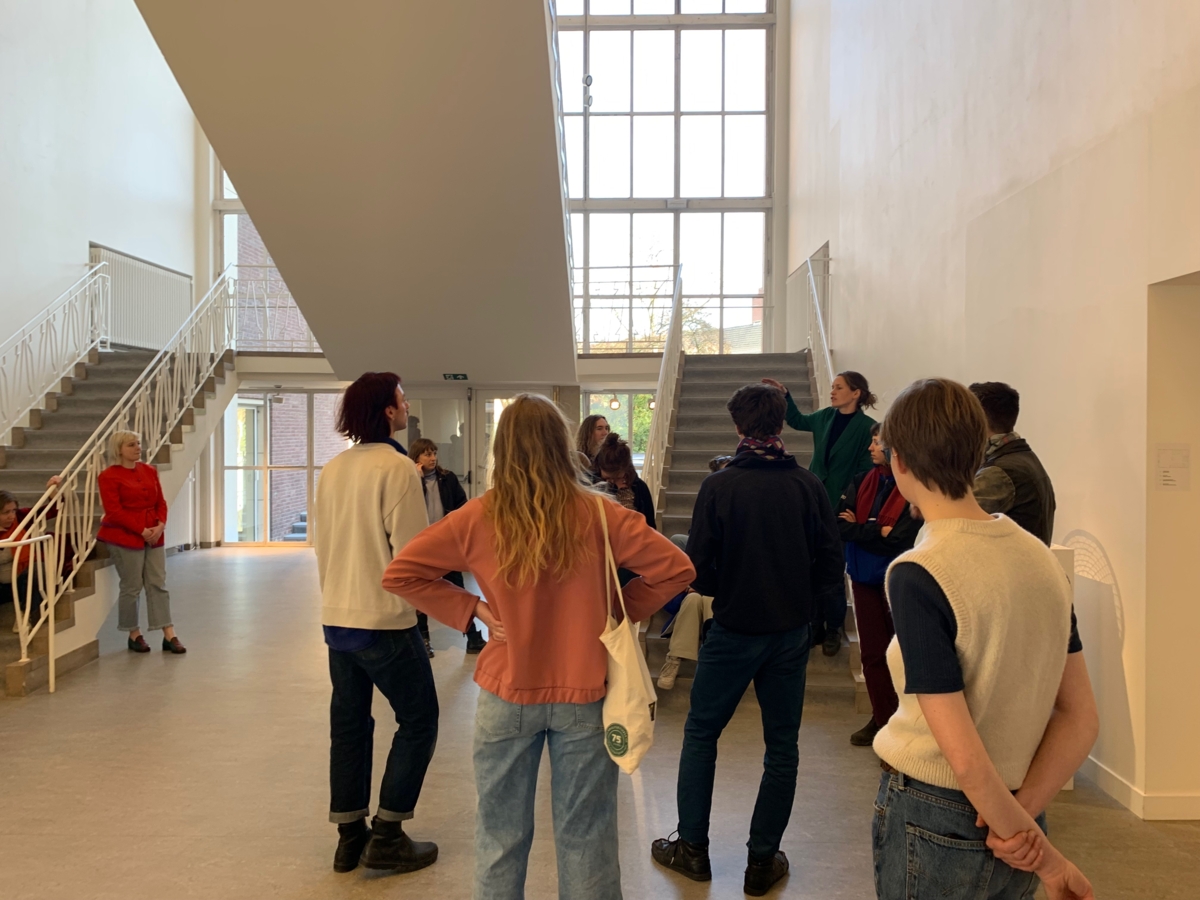 First meeting in Z33's main hall © Marinela Demaj
Areaal is a learning network working on artistic practices outside the city. In 2022/23 Areaal consists of platform for architecture and space AR-TUR, intermunicipal collaboration GINTER, artspace for co-creation, craft and diversity Manoeuvre & laboratory for contemporary transdisciplinary art nadine, loose-fixed art collective Seasonal Neighbours, practice for soft power and radical imagination DEVET and the performance-spatial collective TAAT. Next to the core partners of the network, the artists participating in the Veldwerk trajectory supported by Kunstenplatform PLAN B and those interested in the specific topic of the day are invited to participate in all the meetings.
Each meeting is shaped around a theme chosen by one of the participants in the network. The goal of these meetings is to share practices and experiences of creating and supporting artistic work outside the city with each other and with the artists connected to them. This creates a fabric of shared knowledge around art and/in the rural and hopefully generates more fertile grounds for artistic practices in the rural environment.
The first gathering of Areaal took place on March 19th in the contemporary art museum Z33, hosted by Seasonal Neighbours. Seasonal Neighbours is a loose-fixed collective of artists researching seasonality and cohabitation in Europe's countryside. At the time of the meeting, Seasonal Neighbours had an exhibition in Z33, named Our Invisible Hands. In this exhibition some artists from the collective showed outcomes of their research trajectories.
The topic of this meeting, rural rituals, was partly inspired by the departure of the sacred fire pot by collectif dallas. With their project, the Brussels collective wanted to create a new ritual of care and temporal/punctual movement around anti-frost systems used in farms. With the iron fire pot they designed, they started a walk to the farms where technology that inspired this project is active. This ritualistic procession kicked off both the pot's journey and the Areaal project.
Carrying the sacred fire pot out of the museum © Marinela Demaj
Together we wondered:
What constitutes a ritual and what is rurality?
↓
How do rituals relate to rural environments? How do/could they reflect or transform them?
↓
How do/could art practices meaningfully work with rural rituals?
WHAT IS A RITUAL? WHAT IS THE RURAL?
During this session, we split into two groups to try and define what sort of landscapes we could define as rural and what we mean when we're talking about rituals. Both groups used post-its to associate concepts to the words 'ritual' and 'rural'. This exercise generated discussion on what these things mean and how they interrelate.
Both concepts are broad, have many different interpretations and depend largely on the context they are thought/practised in. A rural environment could be a landscape where you can see further than 500 metres, it could also be a mental place isolated from centres, we could see the rural as peripheral. We could see it as a natural environment, opposed to more constructed cities. The rural comes with (stereotypical or romanticising) associations of quietness, naturality, nostalgia, slowness etc. Increasingly, the countryside seems to become an important element in the shaping of identities. There seems to be, both on the level of society as that of politics, a 'rural' identity, often set off against centres like capital cities where governing bodies reside.
Recurring associations with rituals in both groups are the idea of change or transitions, rituals actually provoke change. Do rituals necessarily, so we wondered, have to be recurring for it to be called a ritual? Or can a ritual happen just once, like the dallas' fire pot for example? Rituals also meddle with identity, they create belonging by in- and excluding, think of nationalist rituals for example, but there are rituals related to gender identities too. Rituals also connect us to time, soil and our environments, think of spring rituals or summer solstices. We also tend to speak of our little habitual moments like coffee in the morning as personal rituals.
WHAT ABOUT THE ARTS?
We reshuffled the groups. First, we discussed some examples
collectif dallas' sacred fire pot
Karolina Michalik's research on the Wieniec Dożynkowy
The Post Collective & Anna Housiada's Metaspora
Jorunn Bauweraerts' Ophelia Festival
Then, we identified a few tactics for dealing with rituals within the arts. Before that, we noticed that there is a distinction between actually "doing" a ritual and merely "representing" a ritual. The difference seems to be that when a ritual that actually changes something, or a ritual that answers a need, you are "doing" an actual ritual. On the other hand, when a ritual is approached in a representational way, it is somehow reduced to its aesthetic qualities. One method could be to try and find that the original intention of the ritual, for example in Karolina Michalik's approach to the Polish rural crown contests, is to create an expanded notion of belonging to rural Poland in spite of the nationalist and nostalgic views it is propagating now. In a way that's flexibilizing the identity politics of rituals.
There are some pitfalls when artistically engaging with rituals. First of all there is the question of authorship, to whom does a ritual belong and who can perform it (successfully)? Second, there is the related possibility of aestheticizing a ritual by only using the aesthetics and obscuring the intention of the ritual.
At the end, we collected some needs for doing rituals in artistic practices. First of all, there needs to be a need. A ritual needs to somehow have a reason to exist, some sort of a goal even. That could be to celebrate something, to mark a transition, to cope with trauma… Next to that, a ritual needs a community supporting, witnessing and performing it that shares a common understanding of the ritual. Lastly, a ritual needs space, it needs an environment to live and to relate to.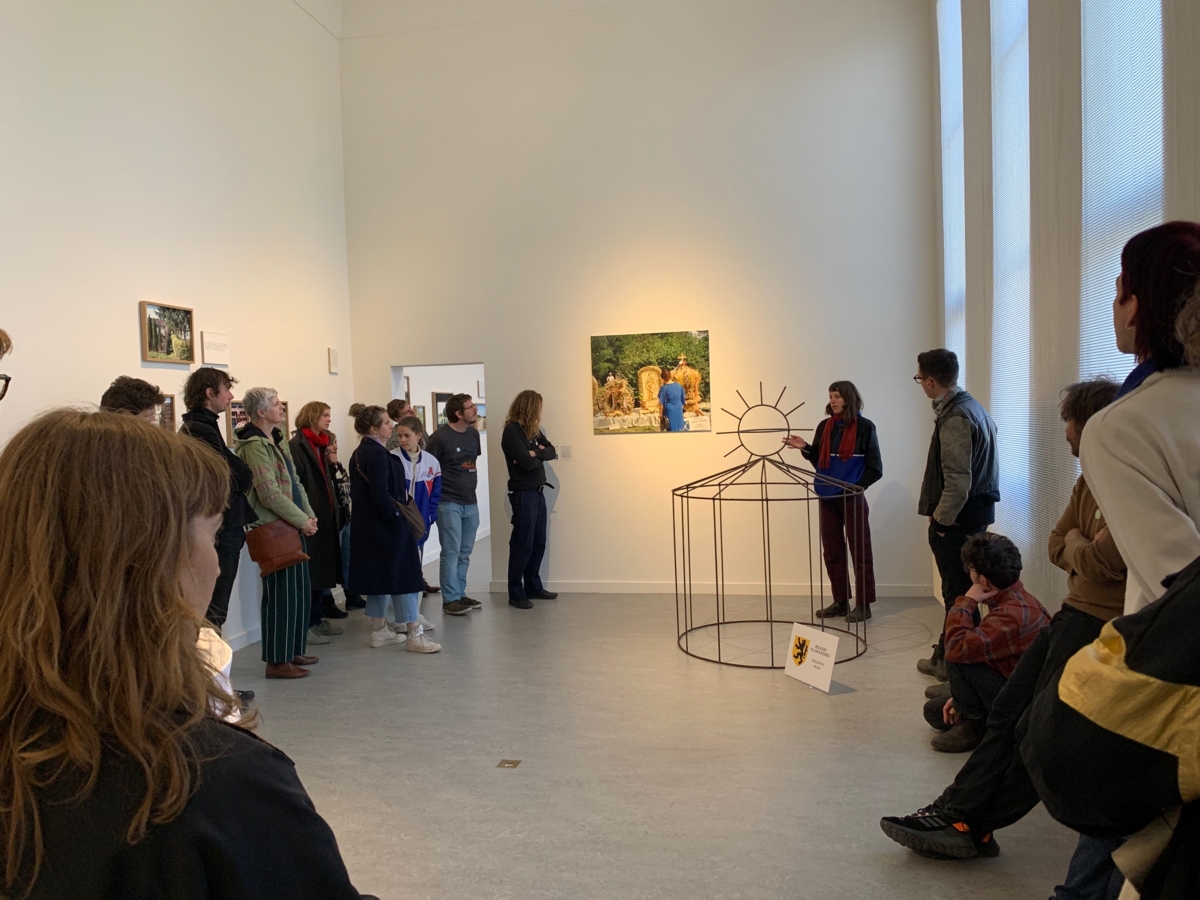 Karolina Michalik next to the crown she's building for her project CHŁOPI © Marinela Demaj
QUESTIONS WE ARE TAKING ALONG
WHAT IS A RITUAL FOR THE FUTURE? WHAT ARE FUTURE RITUALS? WHO IS THE AUTHOR OF A RITUAL? HOW TO CO-CREATE A RITUAL? WHAT NEEDS DOES A RITUAL FULFIL? WHAT KIND OF TRANSITIONS DO WE NEED RURAL RITUALS FOR? HOW TO AVOID UTILITARIANISM IN RITUALS? HOW CAN RITUALS ANCHOR PROJECTS IN THEIR ENVIRONMENT? HOW NOT TO BE AN INTRUDER? HOW TO KNOW IF WE'RE DOING A RITUAL OR MERELY REPRESENTING IT? HOW TO CREATE A RITUAL THAT IS BIGGER THAN YOURSELF? HOW TO MAKE RITUALS SUSTAINABLE? WHO DO RURAL RITUALS BELONG TO? HOW TO DEAL WITH FIXED/NOSTALGIC/EXCLUSIVE IDENTITIES IN AND THROUGH RITUALS? DO RITUALS EXCEED ART? WHY DO WE WANT TO BE INVOLVED?
ORGANISERS
Seasonal Neighbours
Seasonal Neighbours is a loose-fixed collective, focusing on different forms of seasonality and forms of cohabitation in Europe's countryside. Through fieldwork, art and design interventions, critical conversations, thoughtful representations and written research, this subject is explored in a myriad of themes. From the evolution of the metabolism of horticulture, the rural landscape and European labour migration stories, to questions about the economy of scale in the agricultural sector, domesticity, public space, new forms of citizenship, etc. Seasonal Neighbours participated in the research trajectory Veldwerk I, hosted by Kunstenplatform PLAN B in 2020-2021.
PARTICIPANTS
Loes Jacobs (nadine), Jorunn Bauweraerts (Laïs, Opheliafestival…), Breg Horemans (TAAT), Edith Wouters (AR-TUR), Ils Huygens (Z33), Ciel Grommen & Maximiliaan Royakkers, Jonathan De Maeyer, Karolina Michalik, dallas collectif, Ines Marita Schaerer,Ode Windels, Pia Jacques de Dixmude, Mona Thijs (Seasonal Neighbours), The Post Collective & Anna Housiada, Lola Daels & Sebastiaan Willemen, daemsvanremoortere & Fallow, Joris De Rycke, Lucas Devolder and Karolina Michalik (Veldwerk II) Ewoud Vermote, Marinela Demaj, Vincent Focquet (Kunstenplatform PLAN B)